The funny thing is, the distrust from the crew made sense in the game because Tact was still a new guy who, beyond Luft vouching for him, had to prove his worth in the eyes of everybody aboard the Elsior. Howie, on the other hand, is supposed to be a feared and respected "legendary" figure who is buddies with the Royal Family and other important figures, yet the author still expects us to think the Angels vouching for his innocence is somehow endearing or something.
Once I finished explaining the whole mess from start to finish to Shiva, she immediately shot a dirty look at the Angel wing. She then demanded all of them to apologize for accusing me of peeping on Ranpha. I interjected, letting her know that Milfeulle had already apologized, so she was excused from that decree.
The angel wing apologized one after the other (despite some argument from Ranpha), to which I accepted. From there, I escorted Shiva back to her audience chamber while the rest of the girls went about their ways.
You are not only a massive asshole, Howie, but also a petty, paper thin-skinned faggot. You could have easily been the "better man" and let the whole thing slide as a simple misunderstanding exacerbated by the stress of being in the middle of a freaking war, but instead you went ahead and "accused" Ranpha in front of Shiva, much like a bratty kid trying to get a classmate in trouble. Except, of course, for the girl you want to bang.
As we traversed the corridors, Shiva looked at me and said, "Howard, why didn't you come to me to begin with? I could have put that whole thing to rest a lot sooner if you did."
I sighed before responding, "I had to find out who was the one that was running around posing as me. For all I knew, it was an assassin sent to kill you. I was not about to let that happen. Considering it was an optical camouflage probe, I wasn't too far off. Thankfully, we're in Chrono Drive, so it couldn't transmit it's report off the ship. However, the fact it took on my image would have meant it could have gained access to you without question."
"It could have been an assassin after your life, that's why I couldn't stay at your side to keep you safe like a decent bodyguard would do."
Shiva looked down solemnly as I continued, "Besides, there's only enough room on this ship for one Demon. I wasn't about to get replaced by a two bit cheap imitation that couldn't even fill my boots." This caused Shiva to laugh, which was something that I enjoyed seeing. Despite the fact I've guarded her family over the course of a century, I still consider her like a daughter to me, so of course I want to make sure she's happy.
I would be more inclined to believe that if you didn't take every single damn opportunity to leave her side.
As we boarded the elevator to head down to B Deck, Shiva looked at me and said, "So, there have been whispers among the crew of you flirting with one of the Angel wing members. Is it true?"
My eyebrows shot up as I looked at her in surprise. Great, my reputation is now of a flirt instead of a fearsome monster. Wait….that's actually an improvement.
"Now I can intimidate them all over again! Awesome!"
"Well, I never could hide much from you. Yes, I have been. Do you wish for me to stop?"
"NO! No, It's nice to see you stepping out and trying to find your own happiness. I've heard all kinds of stories, but never involving anyone you consider special in your life. I would like to be able to see that happen. You, of all people, deserve to be happy to, you know."
Oh, so he wasn't actually happy when he humillated Tact by crushing his hand or Ranpha by beating her with minimal effort? Good to know, I guess.
I couldn't help but chuckle as the elevator doors opened and we continued our way to the audience chamber. As we entered the chamber, one of the maids that had been embarked came up to us and said, "Your majesty, I humbly apologize. There appears to be a shortage of water on board, so we weren't able to properly clean your linens. I assure you that you do have clean linens and we will do our utmost best to improvise around this small setback."
Shiva dismissed her, then turned to me and said, "You've been around the ship a lot more than I have. Could you inform Myers of this and have him see to it that it is corrected?"
I bowed lightly and said, "Of course Shiva. I'll make my way to the bridge immediately." With that, I left the audience chamber, and made my way back to the bridge.
And here we go again…
Upon entering the bridge, I walked up to Tact and Lester, who were already in the middle of a conversation about the supply situation. Guess I didn't have to say anything after all.
I only wish the rest of the story was like this one paragraph.
"As Commander, it's your responsibility to ensure our supplies are maintained above a set minimum endurance. So, you need to go around and find out what needs to be requested and purchased."
"Alright, alright, I'm going. But first, I'm going to go get some lunch from the cafeteria. I haven't had anything to eat yet today. Then I'll handle the supply situation."
That was when Lester noticed me standing by the doorway. "Ahh, my lord. What brings you to the bridge?"
Seeing the normally cool and professional Lester suck this guy's dick by constantly addressing him as "my lord" in that pathetically subservient manner has to be one of the most infuriating aspects of this story.
"Actually, I was going to relay a message about a water shortage from the Prince. However, it sounds like that isn't the only shortage we're having problems with. Anything I can do to assist?"
Tact walked over to me and said, "Let's head to the cafeteria, I'll fill you in on what I have in mind."
Entering the cafeteria, we found a large portion of the crew almost fighting each other at the lunch line as Tact commented, "Wow, it's unusually busy today. I guess people must know about the shortage."
Before I could say anything, Milfeulle called out to us. "Tact! Demon! Over here, come join us!" Mint then chimed in, "Yes, please join us."
We walked over and sat down with the two girls. I sat next to Milfeulle and Tact sat next to Mint. I noticed Mint throwing me a coy look as she looked back and forth between me and Milfeulle as I thought,
'Come on, are you ever going to take the hint and get off my back about her?'
"I'm afraid not. After all, I'm looking out for the well-being of my friends."
I simply glared at her as she wore one of her oh-so-innocent smiles as Milfeulle and Tact just looked at her in confusion before Tact said, "What's going on?"
"Nothing, just a certain little rabbit acting like a pest, that's all."
"Now, now, Demon, is that anyway to treat your friends? Besides, if anyone is acting like a pest, it most certainly isn't me, now is it? I've been nothing but courteous to you since you came on board."
"Oh, is that what they're calling it these days? Back in my day we had another word for that kind of thing."
I have a feeling if we looked for its definition in the dictionary we would find your picture next to it.
"Times do change, perhaps it's time for the old dog to learn a new trick?"
Come on, Mint. You know you can't ask a dog to stop licking his own balls. It would be against its nature.
"Woooow, and here I was thinking of actually doing something nice for you. But, after that jab, you can forget it. After all, I am an old dog. Really hard for me to play nice with these new kids, you know?"
For an "old dog" you sure know how to talk like an edgy fifteen years-old douchebag.
Mint's rabbit ears twitched before we both started laughing, leaving Tact and Milfeulle in complete confusion about what just happened. I looked at Milfeulle, who had a pouty look on her face before I tapped her nose and said, "That's not to say I can't play nice with some people." This caused her to yelp a bit and blush profusely as Tact laughed, as did Mint.
Eww…

EWWW…

EWWWWWWWWWWWWW!
After a few seconds of laughing, Mint said, "If you want to get something to eat, I suggest you get up there now, there isn't much of a selection left." I looked at Tact and shrugged my shoulders as we went over to the lunch line. True to her word, there wasn't much left except for a few assorted desserts. Shaking my head, I walked back over to the table as Tact spoke with the lady in charge of the kitchen.
Sitting down, I saw Mint take a bite of what looked like assorted jelly cubes. Milfeulle looked at me and said, "You're not eating anything?" I smiled and said, "There wasn't much except desserts left. Besides, I can go up to three weeks without food, so I'll be fine." Milfeulle looked at me in shock as she said, "Three weeks? You shouldn't have to go that long without a meal!"
I swear everything is an excuse for this guy to brag. Guns? Bullets tickle me. Pierced by splinters? The wounds will heal in a couple of hours. Sneaking on me? Not with my super sense of smell.
As Tact sat back down, Mint looked at me and said, "Would you like to try this rainbow jelly? It's quite exquisite." I looked at Tact and noticed that he hadn't gotten any food either, so I shrugged and said, "Ehh, sure I'm up for trying new things." I picked up an extra spoon and took an orange cube from her bowl and popped it into my mouth.
As Mint was offering Tact the same thing, I was experiencing the flavor of the jelly. The first thought that popped into my mind.
'Wow, this is actually pretty good, I'm glad I did…'
Then it hit me.
The overwhelming sensation of sweeteners started to overpower my sense of taste. It felt like I literally poured half a bag of liquid sugar into my mouth as I had to stand up from how sweet it was as I was groaning lightly.
First Ranpha's food is overpoweringly hot; then Mint's is overpoweringly sweet. Did these girls seriously not have any taste buds?
Remember how funny this joke was the first time? No…?
Milfeulle looked at me with worry and said, "Demon, are you alright?" I quickly said, "Yeah, just a bit overpowering. Damn, feels like I poured liquid sugar into my mouth. What is this?"
No sooner had I said that did Tact start crying for water. Mint couldn't help but giggle at our reactions before saying, "It's a combination of several artificial sweeteners and colors that produce a mysterious exquisite harmony together."
I just looked at Milfeulle with puzzled look, only to be met with a shoulder shrug before I looked back at Mint and shook my head as I thought,
'Keep eating things that sweet and you won't have a tongue left by the time you're 20.'
Mint giggled as she said, "Oh, I highly doubt that. Besides, it's absolutely amazing and perfectly safe for eating. I would be happy beyond my dreams if I could eat sweets like this forever."
I shook my head as I sat back down, having managed to get most of that sweet sensation out of my mouth as I looked at Tact and said, "Well, so much for lunch. I think I'd be better off just waiting for the resupply."
Tact looked at me and said, "I don't know, I think a stomach full of candy is a lot better than an empty stomach, don't you think?" I looked at him sarcastically as I replied, "You can have that. I'll be perfectly content with my empty stomach. Like I was telling the girls, I can go up to three weeks without food. Besides, I'm confident we'll be fully resupplied long before that happens." Tact looked at me in shock as he said, "Three weeks? Why would you go that long without food? That had to be torture!" I leaned back in my chair as I said, "I had to deal with a lot of things while I was in isolation before I joined the royal family. Food shortages were one of them. Sure, I would go out and hunt, but it got to the point where the animals started to figure out to stay away from my part of the world. Plus, people were terrified of me back then, so I couldn't just casually walk into town to get food. I had to be careful how I went about it so as not to cause a panic."
It's like having to listen to a senile old man complaining. "Food shortage? In my times we had to walk three hundred miles each day to the nearest desert to drink from the cacti and then back to the forest dig some bugs to roast!"
Milfeulle looked at me with a sad look and said, "Shortages in food and supplies tend to make people more irritable. I couldn't imagine what that was like for you. This situation is hard as it is."
Yeah, it must have been difficult having all those powers while being so utterly fucking dumb as not to try to get food by other means beyond hunting and pestering people.
Mint then chimed in, "By the way, I heard Ranpha shouting from the showers earlier. Do you know what that was about?" I chuckled as they all looked at me and said, "Probably about the water shortage that's going on if she was in the shower."
Then, as if she heard her que, guess who came to lunch?
"Aww, this really sucks," was the first thing out of her mouth to us.
Tact looked at Ranpha and said, "Yo, Ranpha, we were just talking about you."
She gave him a dirty look as she said, "I wanted to talk to you too. Tact, the showers are out of water."
Tact placed his hand behind his head sheepishly as he said, "Yeah, you're not the first person to notice we were short on water." I simply smirked as I looked at Milfeulle and cocked my eyebrow twice as Ranpha continued, "I had just put in shampoo, so it was awful timing. Thanks to that, I had to rush. And we're out of shampoo, so I was washing my hair with body soap…my important cuticles are in danger! You're supposed to be the commander. Do something. A girl's in trouble here!"
Milfeulle looked at her and said, "Ranpha, does it look like he has time for small things like that?" Ranpha looked at her and said, "What are you talking about? Taking care of the troops is the Commander's job."
I couldn't help myself but to say, "I think I might have a quick solution to your problem there Ranpha." They all looked at me as she said, "Really? What is it? Tell me!"
"May I recommend a haircut?"
If looks could kill…
"This is serious! Why should I cut off my beautiful hair just because Tact isn't doing his job as Commander?"
Milfeulle and Mint both giggled between themselves. At least they got the joke.
Is this what happens to your sense of humor when you spend hundreds of years isolated and talking to rocks with smiley faces carved on them?
Tact then said, "How did the water supply on the ship get so low?" You know, I was thinking that exact same question myself. You would think, being in deep space for months at a time that there would be a water treatment system in place to extend the useful life of what water we do have. But that makes too much sense. "In that case, the computer needs to limit the water supply without any input."
This caused Milfeulle to groan a bit, "Ehhh, it limits the water supply? We've got a time limit to wash our faces or take a shower?" Ranpha jumped in, "Why's that? After exercising or fighting, how are we supposed to wash off our sweat?" Milfeulle continued, "How am I supposed to cook? I can't wash my plates or my vegetables." Then Ranpha, "And I haven't had the chance to try my new clay pack treatment yet." I was rolling my eyes at the back and forth. Normally, this would be funny. However, given the current situation…
Imagine trying to enjoy your favorite game while having some fat, ugly neckbeard sitting next to you and making snide comments and unfunny jokes about every single aspect of the game. From characters and artwork to gameplay and mechanics, everything is worth of an exhasperated sigh or an exaggerated eyeroll followed by some dumb shit.
Mint the came to Tact's rescue, "Now now, both of you please settle down. A restriction has not been enacted on the water supply yet, correct?" Tact stammered, "Y-yeah, I mean I haven't made a decision yet. However, if water is limited, you girls might have it rough." I couldn't help but laugh at that. This? Rough? Please. If this was their idea of rough, they probably wouldn't survive the first week in the isolation I put myself in.
I GET IT, SON, YOU'RE THE BIGGEST, BADDEST MOTHERFUCKER IN THE WHOLE DAMN UNIVERSE! CAN YOU STOP WAVING THAT BABY CARROT YOU HAVE BETWEEN YOUR LEGS IN MY FACE? THANK YOU!
But, that's neither here nor there as I got strange looks from everyone before saying, "Alright, we get it, you're unhappy with the situation. Let Tact do his job and I'm sure he'll get this sorted out in no time, right?"
"But just in case, I'm going to keep following him and overshadowing him at every instance."
Ranpha then said, "Obviously, it takes a lot of effort to maintain my beautiful face!" Oh, do I want to go for two for two?
Yes, yes I do.
"I have a solution for that problem too." Everyone looked at me as Milfeulle and Mint both had a really big smile of their faces like they already knew where I was going with this. I grabbed an extra brown paper bag someone had left lying on the table behind us as I said, "Here you go, just cut out a couple of holes for the eyes and you're good to go."
Clearly Howie compensated all those years of isolation by binge watching Nickelodeon sitcoms.
Milfeulle and Mint were both laughing as Tact groaned lightly, probably restraining himself so as not to get hit by Ranpha as she threw me another dirty look and said, "How dare you! I'll have you know my face is the prettiest face on board. Putting that piece of garbage on my head would only ruin it even more than the current situation."
'Personally, I have to disagree with that, I think Milfeulle's is prettier, but I'll be nice and keep that to mys…..MINT!'
I saw the coy look Mint was giving me as she smiled and said, "Don't blame me for your carelessness with your thoughts."
Everyone looked at her, then at me as Ranpha said, "What did she mean by that?"
I rolled my eyes as I said, "A difference of opinion. One that I was going to be nice and keep to myself." Shooting Mint a dirty look, she merely giggled as Milfeulle looked at me and said, "What was your opinion?"
Before I could answer, however, a loud stomach growl broke the silence, causing me to smile and look at Ranpha as I said, "Well, looks like someone has some input of their own. Are you hungry?" Ranpha quickly said, "Of…of course I am. Why do you think I'm here! Is there a good selection left?"
Both Tact and I just looked at each other with hesitant looks before Tact said, "Uh…Ranpha…?" Before she could finish, however, she ran over to the lunch line as I said, "Well, looks like she'll find out here in about 4…3…2…1…"
Right on time, Ranpha came walking back with a worried look on her face. Probably because she realized she got there too late. Milfeulle asked, "You're back Ranpha. How was it?"
Ranpha glumly said, "I can't believe this, they're all sold out. Braised scallops in cilantro oyster sauce, southern style curry, even the lunch special, absolutely nothing is left!" Tact sheepishly said, "I know, that's why I'm not eating either."
Then Ranpha looked at the plate in front of Milfeulle as she said, "…Milfie, what's that clean plate in front of you? Was that the braised scallops in cilantro oyster sauce?" Uh oh, I had a bad feeling I knew where this was going.
Milfeulle happily said, "Yeah, it was delicious. I got an extra large portion since it was the last one left."
Ranpha looked down sadly as she said, "So…the last one…extra large…How nice for you and your luck. You always steal what I want away from me."
My eyebrows shot up in surprise at that statement. Milfeulle's smile turned into a sad look as she said, "…Ranpha, what are you talking about?"
That was when the floodgates completely let loose. "This isn't the first time! Ever since I met you, it's always been like this. Like that time you got lost and made me late to the entrance ceremony at the pilot academy! There's no way you could have gotten lost at such an opportune time!"
Milfeulle smiled and said, "I remember that. How nostalgic."
Ranpha snapped at her, "It is not nostalgic!"
Tact looked at them and said, "I thought you two were friends. Didn't you go through pilot school together?"
Milfeulle started, "Yes, that's right. Ranpha and I have always been…"
Once again, Ranpha snapped at her in mid-sentence. "It seems to Milfie that we've always been together, because she always comes to me! Always being stuck with you does nothing but piss me off!"
Milfeulle had a hurt look as she said, "Ranpha…" I, on the other hand, was starting to get mad with how she was yelling at Milfeulle. "Ranpha, I highly encourage you to be very careful with what you say next if you don't want to be eating the bulkhead for lunch."
Chicks love when you threaten their friends, right?
Mint then stepped in, "Is hunger making you irritated? How about trying some Rainbow Jelly?"
Ranpha said, "No, I think I'd rather not…"
My glare towards Ranpha started to ease up as Tact said, "Can't you just wait for dinner? Skipping one meal isn't going to kill you."
"That's not the problem! I'm sure Milfie will get the last meal then too and leave me with nothing!"
I looked at her as I said, "Then I guess you'd better get here a bit early to get a good spot in the line, now shouldn't you?" I made no effort to hide the poison in my words. I'd about had it with her attacking Milfeulle unchecked. Milfeulle put a hand on my pauldron with a soft look as she just smiled at me. I swear, that smile…
There are few things as cringy as a horny asscrab who is so thirsty for the opposite sex that he refuses to see the flaws of the chick he wants to bang, namely that she can be a ditz and an airhead.
Tact then said, "Ranpha, calm down, you don't really mean that, do you?"
Ranpha looked like she'd been hit in the gut before she said, "Ah…I'm leaving!" Then she ran out of the cafeteria shortly thereafter.
Both Milfeulle and Tact called after Ranpha, but she was already gone. Milfeulle looked down as she said, "Ranpha…really hates me." She started to sniffle, as if she was trying to hold back from crying.
Tact stood up as he said, "I'm going after Ranpha. She needs to apologize to Milfie. Ah, but I can't leave Milfie either."
Both Mint and I looked at each other as Mint said, "Go after her, we'll take care of Milfie. She was probably just caught up in the heat of the moment."
Tact nodded as he ran out of the cafeteria, leaving me with the two girls as I placed a hand on Milfeulle's shoulder and said, "Hey, don't cry. She didn't mean any of that. She's just stressed out between the lack of water and being hungry. Give her a little bit of time and probably some food, and she'll be back to normal in no time."
"She's just stressed and didn't mean it, which is why I threatened to smash her face against the wall."
Milfeulle looked over at me, tears welling up as she said, "But, you heard her, she's resented me since pilot school." At that point, I looked at Mint, who silently waved her hands forward, as if nudging me. Without a second thought, I pulled Milfeulle close to me and hugged her, causing her to squeak in surprise for a moment before I whispered in her ear. "Just because she has a few bad memories that she wants to blame you for doesn't mean that she hates you. Think about it, if she hated you, would she spend as much time as she does with you? She said that you kept going back to her in school, but from what I've noticed here, she keeps going back to you. As much as she may not want to admit it, you're probably one of the best friends that she has. Take comfort in that thought, even if it's just a little."
I just want you to know Tact did not had to suddenly hug Milfeulle and whisper into her ear to comfort her in the game.
After a few moments, Milfeulle placed her arms around the back of my fur tails and softly cried into my tunic. I looked at Mint as I placed a hand on Milfeulle's head. She smiled and nodded, letting me know I did the right thing as I let Milfeulle get it out of her system. In a few minutes, she pulled her head back and said, "You're right. She didn't mean those things. I want to make it up to her, but I'm not sure how." Before I could say something, Mint said, "What about that cinnamon pie that she's been wanting you to make."
That perked her right up as her face lit up. "That's right! That would be perfect! Though, I need cinnamon. I have everything else in my room." I smiled and looked at the both of them and said, "Sounds like we need to take a trip to the convenience store." Mint stood up, followed my Milfeulle, who seemed hesitant to let go of me, or rather take her hands off my tails. I stood up afterwards as Milfeulle looked at us and said, "Thank you guys. I am really lucky to have you as friends."
We started to walk out of the cafeteria before Milfeulle said, "Your tails are really soft Demon." I only chuckled at this as we made our way into the hallway. Great, she was copping a feel on my fur while she was crying.
Clever girl.
A five hundred years-old guy who can kill people with ease falls in love at first sight with a seventeen years-old girl. He growls and threatens at those he feels make her uncomfortable and oversteps his boundaries, hugging her and whispering into her ear.

Holy shit! It's Twilight! No wonder I felt so creeped out!
As we entered the convenience store, the girls walked in ahead of me, the clerk looked at them and said, "Ah, Ms. Milfie, Ms. Mint, wel….." The color drained out of his face when I walked in behind them as he finished, "My…my lord, we-welcome. Is there some….I could help you with?" Milfeulle went straight towards the seasonings as Mint looked at the shopkeeper with a worried look before looking at me. That's right, she hasn't been here with me yet. Well, may as well explain it.
I leaned down and whispered to her, "He's terrified that I'll eat him if he says the wrong thing. While I have thought of trying to put his mind at ease, having that fear does make some things easier to deal with." She only giggled as we noticed Tact and Ranpha come into the store.
"Having that fear does make some things easier to deal with." Like what? No, seriously, like what? How does having a clerk from a convenience store be terrified of you makes things easier for you? Are you afraid he's gonna offer you a rewards card or give you with some coupons?
"Oh, Tact! Fancy meeting you here."
Tact looked at us in surprise. "Eh? You guys came here too?"
Milfeulle quickly chimed in from one of the aisles, "Ranpha, I came here to buy ingredients to bake something for you. Before, you said you really wanted a cinnamon pie."
Ranpha perked up at that. "Ah, that pie? You're going to make it? Sounds good."
As Tact stood by Mint and I, she quietly said, "Hmm, it looks like it went well Tact."
Tact smiled and replied, "Thanks to you two. Thank you both."
As Mint continued to talk to Tact, I looked over at Milfeulle before hearing Ranpha's voice cut in, "What are you two talking about?"
Milfeulle cried out as she said, "Aww! Cinnaomn's sold out! I can't make a cinnamon pie with just this." Of course there would be a hitch to the plan. Either that, or her luck struck again.
Ranpha groaned as she said, "What? After you got me excited and looking forward to eating that delicious pie…"
Tact chimed in next, "Whoa, All the bread and box lunches are sold out. While we were talking, the rest of the crew must have bought everything." Gee, didn't see that coming.
Ranpha sadly said, "Aww, there's no food no matter where I look. I can't go on…" Oh give me a break, now she's a drama queen? Is there no end to her list of job titles?
Self-awareness? Hello? Where are you?
The clerk spoke up saying, "I'm very sorry. I've ordered new supplies from the warehouse, but it'll be two to three hours." I glared over at him, causing him to shrink back behind the counter as everyone looked at him, then looked at the look I was giving him. As the girls continued their conversation with Tact, I decided I would leave them to the task at hand.
"Well, if you folks will excuse me, I will go ahead and leave you to your work. As for you…" Pointing at the clerk, who yelped lightly as I finished, "it better not take two or three hours to restock your store. Especially if you don't want to deal with me." He nodded his head profusely as I began to walk out of the store.
I have a feeling Guardian Hawk intended this whole "clerk is afraid of Howie" thing to be some kind of running gag. Unfortunately, he understands humor on the level of an angry, screaming chimp, so his self-insert just ends up looking like a particularly petty bully.
As I turned left out of the door, Milfeulle called after me, "Demon, wait up. I just had a thought. Maybe the vending machines in the hall still had something left. Want to come with me? I'd like the chance to talk with you for a bit too." I smiled and motioned my head for her to come along. To which she happily caught up to me while Tact, Mint and Ranpha went towards Mint's room to have some of her candy.
Making our way down the passageway towards the elevator, Milfeulle started, "So, we never really finished our conversation from earlier, before that missile hit us." Damn, she remembered that? I was kinda hoping she'd forgotten. "Ahh, I see. Let me see, as I recall you asked me if I'd ever been in love before, to which, I said no. Then you said I'd done some things that I haven't done for everyone else. So, by all means, please continue."
Milfeulle blushed lightly as she started twiddling her fingers around. "Well, you've been…well…playful, every time you come to my room to talk to me. You've winked at me on a lot of occasions, and there were even a couple of times that you flirted with me. Then, there was the picnic. After the sprinklers had gone off, you not only saved my food at the cost of getting soaked, but you also defended me from the rest of the angel wing when they blamed me for it. You also hugged and comforted me after Ranpha got upset with me too."
At this point, she was blushing profusely as we stepped onto the elevator and began to head to Deck C. I chuckled as I said, "Well, those are very valid points, and I can't really argue against them. You know, now that I think about it. I haven't done any of that with anyone before. Not sure what it is, but you're definitely having an effect on me. So, I'd be completely oblivious if I didn't ask what you were trying to say."
She perked up, still blushing as she looked at me and said, "Well, I was wondering…"
"Are you trying to become my gay friend?"
As the doors opened, we were greeted by Forte and Vanilla standing by the vending machines just outside of the doors. "Good timing….oi, what's going on here?" Forte just could help but have a coy smirk on her face when she saw how much Milfeulle was blushing as I rolled my eyes and said, "Just having a conversation to pass the time in the elevator. Any luck with the vending machines?"
The overhead announcement system chimed on as Almo's voice came over, "All hands, prepare for Drive out." The ship noticeably shifted, indicating we were back in normal space as Forte continued, "No, all the vending machines are empty. Looks like the crew raided them when word got out about the supply situation. Now, what were you two talking about that has Milfeulle redder than a tomato?"
I looked at Milfeulle as she quickly said, "I was asking what it was like to be a Demon and I was caught off guard by some of the things he's done over the years." Wait a second. Did Milfeulle just flat out lie to them? Wow, I didn't know she could do that. Not letting my guard down around her.
Vanilla then said, "Your body temperature and heart rate are elevated. Are you ill, Milfie?" I chuckled as I answered for her, "No, she's not sick. Excited maybe, surprised even, but not sick. You can relax there Vanilla." Milfeulle's blush started to creep away as Forte said, "Alright, if you say so. Though, there's nothing wrong with flirting with her, just so you know Demon."
Forte laughed as I rolled my eyes and said, "Oi, are you kidding me? It was just a regular conversation. Sheesh, you're almost as bad as the little rabbit." Forte raised an eyebrow, as did Milfeulle before Vanilla said, "You are referring to Mint?" I laughed and said, "Yes, I am. I'm surprised you're the only one that picked up on that. I've called her a rabbit before."
Get it? Because she's got rabbit ears! Huehuehuehue!

But leaving the dumb shit aside, it's fascinating how much this guy loves to talk about himself and his experiences, but doesn't ask Milfeulle anything about her life.
Before Forte could respond, an alarm went off, causing all of us to look up as Almo came over, "We are in receipt of an S.O.S. Angel Wing, prepare to sortie."
Forte and Vanilla took off towards the hanger as Milfeulle looked at me. That's twice now that conversation has been interrupted. I smirked and motioned my head towards the hanger, causing her to start running with me just behind her.
"Should I go with Shiva in case the enemy tries to ambush us again or we get hit with another missile? Nah, she's got her maids with her."
As we entered the hanger, Ranpha and Mint were already in their frames and Forte and Vanilla were climbing into theirs. I followed Milfeulle onto the catwalk leading to her frame. As she reached the door into the cockpit, she looked at me and said, "Can we talk afterwards? I really want to finish talking about this." I chuckled and winked at her as I said, "Sure, now go get 'em Tiger." She smiled as she climbed into her frame and the catwalk began to retract while I was standing on it, bringing me back to the main pathway.
Tigress. The word you're looking for is tigress. Unless you're expecting to find something else under her skirt.
Once the emblem frames deployed, I made my way to the bridge. I figured I may as well find out what's going on since I don't have anything better to do.
Like bodyguarding the last surviving member of the Royal Family?
Upon arriving at the bridge, Lester was going over the tactical picture with Tact. Apparently, they managed to get in touch with a merchant fleet nearby and they fell under attack as they were moving to meet up with us. I stepped forward and looked at the screen as Tact ordered the frames to protect the merchant vessels while the Elsior moved to rendezvous with them.
Before I could say anything, however, the image of a male with light blue hair popped up next to the images of the angel wing as he said, "Ahh, my honey, I have returned. It is I, Camus O. Laphoraig, how my name flows like a breeze through space."
I rolled my eyes as I said, "More like a 3 day old stagnant fart. Who is this joke? He can't seriously be the reason behind the SOS."
In the games, a confused Milfeulle asks "doesn't wind not blow in space?" in response to Camus line, but I guess that's nowhere near as funny as a fart joke.
Lester and Tact both had serious expressions as Milfeulle chimed in over the com. "Ahhh, you again? What do you want this time?"
Camus continued, "We are here to ensure the Elsior is properly delivered to my lord Eonia. I'm also here to rescue you from the one who is playing with your heart with fabricated flirting. Your love is blinded from your hearts true desire by this beast of a being." Ok, either more than one person was flirting with Milfeulle or…
Milfeulle quickly blurted, "I don't need rescuing, and what are you even talking about?"
Camus then said, "He knows what I'm talking about. The Demon of the West. He openly admitted to Prince Shiva, who we know is on your ship, that humans and demons are like oil and water, they don't mix. This is a very true statement, thus why I've come to rescue you from his defiled grasp."
I love this guy. Do you love this guy? I love this guy.
At this point, I'd had enough. I walked over to the com screens and opened a channel. "So you're the weasel that freaked her out last time around. I was wondering when I'd get to meet you. Though, let me ask one question before I continue, your last name. Where did you get that? A can of alphabet soup? Did you decide one day that your last name wasn't cool enough and said, 'You know what, whatever this soup spells out, I'll use as my last name. Lap ho raig, you know what, that's good, let's roll with that. I can't even pronounce it; it's that far-fetched of a combination of letters. I don't know what you're smoking, but you need to pass that shit around and quit being greedy." Milfeulle was laughing hysterically by the time I was done.
First a fart joke and now "your surname is stupid and you're like on drugs"? Did a fifteen years-old co-write this crap? How can anybody think this shit is remotely funny or clever?

And while we're on it, "Laphroaig" is a brand of Scotch whisky. You see, all of the Hell Hounds are named after alcoholic drinks.
Camus chimed back in and said, "This coming from a being who can't even comprehend what love is truly like, let alone even begin to dream of how to reciprocate it. I will deliver to my honey a most beautiful grave to save her from this nightmare."
I raised an eyebrow as I looked back at Tact, then back at him before saying, "Awful strong talk for someone who apparently has to stalk someone just to get noticed. Contrary to popular belief, that stalker gig doesn't actually work. You need to stop watching those bad thriller movies that you are obviously copying just to get Milfeulle's attention.
Calls Camus a stalker when he ditches Shiva at every single opportunity to go after Milfeulle.

Tells Camus to stop trying to copy movies when his whole persona is modeled after some character from a show he watched years ago.

He's so fucking dense, I bet that's why bullets don't work on him.
Furthermore, you don't know the first thing about what I do and don't know, but here's a free lesson. I have more than enough strength to rip you apart, so don't even think you'll go near her so long as I draw breath."
This threat would work better if it wasn't for the fact she's the one who has to get out there to fight.
He only laughed at this as he said, "Then it looks like we're in agreement for where your next stop shall be." With that, he closed the channel. I really wanted to rip his throat out, but, sadly, nothing I can do from here as Tact ordered the Angel wing to deal with Camus and his rag-tag band of rejects while I stepped back and took a breath to calm down.
I love how Camus just laughs at Howie while he has to take breaths to calm down. Makes you wonder who's the hundred years-old martial arts instructor here, eh?
Now, this is around the chapter in the game where we are introduced to the remaining three members of the Hell Hounds. Guess since Guardian Hawk only jerks off to Milfeulle he deemed the rest of them unnecessary, but not me. So here you have them.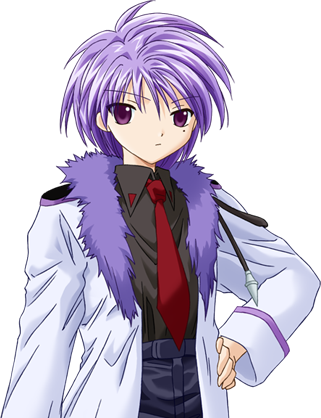 Riserva Chianti. Third member of the team. A self-described noble who looks down on others as peasants and inferiors. Serves as counterpart to Mint. And I bet you're wondering, "sword or sheat"? The game treats Riserva as a girl, while the manga goes for guy. Personally, I prefer the latter since it goes with the whole "male counterparts" thing, plus being feminine looking and having a female VA hardly means your character is a girl in Japan.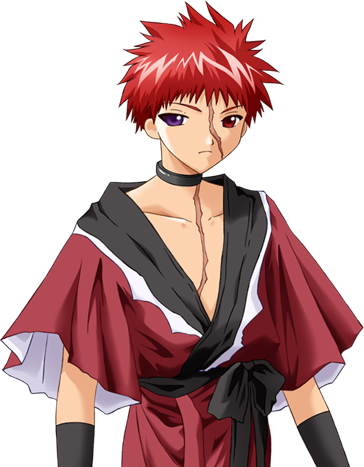 Red-Eye. The fourth member. He's cold and stoic, but speaks with killing intent. He's Forte's counterpart.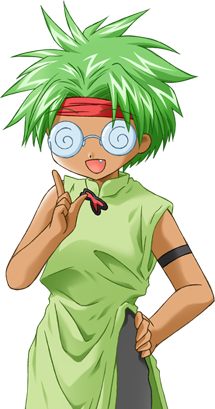 Vermouth Matin. The fifth member. Bratty, immature and a gadgeeter genius, at least in the manga. He's the counterpart to Vanilla.
Once the battle was over and the attacking vessels were in full retreat, Camus came back over the com channel.
"As expected of the Angel wing, it was a beautiful fight. You truly are worthy of us. Aside from that, there is something you must see. We carry a message from his majesty, Eonia."
Tact spoke up in response, "A message from Eonia? Do you mean one to pass to Prince Shiva?"
"You should be careful how you address him. Being Eonia's follower is a graceful path. Ask the Demon of the West, he was the first before he fell from his majesties grace and sided with the old empire. With that said, I'll play it."
I gritted my teeth in anger at that jab, but kept silent as the message played.
Tell him his name sounds gay, Howie! That'll teach him!
"Those on the Elsior, I greet you." That was him alright, I still remember his voice from before his exile as he continued. "I am Eonia Transbaal, Emperor of the Legitimate Transbaal Empire. I know you are escorting my cousin, Shiva, to the Rhome system. But you are making a fatal mistake. The remnants of the old regime wishing to protect their own interests support Shiva. However, he will just be a puppet. To know that my beloved cousin would be used for such a plot pains me. Moreover, that would bring ruin to our subjects. Additionally, if Shiva becomes the puppet of the old regime, the chaos will just be prolonged. None of us wants that. You are simply confused by the corruption the old regime left. However, there is still time to hand Shiva over. You are victims too. I hope that you will have the courage to correct your mistake. My heart can accept your feelings. Of course, I promise that no harm will come to Shiva, because he is my only relative left. With Shiva's help, I want to build the Legitimate Transbaal Empire's future. I believe in your wise judgement..."
Just when I begin to think it's over. "Howard, I know you're responsible for saving my dear cousin from the palace. You were always my most reliable guardian and I'm glad to see that Shiva is receiving the same dedication you gave to me over the years. It's not too late to join me at my side. Please, consider my words, deep in your heart, you know it's the best course of action for the Empire, and for Shiva. I know you'll make the right decision. You always did for me in my youth."
Lovely. Not only this paragraph does clash badly with the original one in terms of Eonia's characterization, but also addresses the self-insert as if he was the most important factor in this war.
The message ended as everyone was staring at me as Camus came over, "How's that? Weren't his majesty's words beautiful? Don't they just soak into your heart?"
The conversation continued as I started to tune it out. My arm was beginning to shake with how much rage I was feeling right now. I don't what made me angrier. The fact that it sounded like Eonia was truly beyond redemption, or that this jackass seriously didn't know when to stop talking.
"Nobody talks more than me! Nobody!"
Lester looked at Tact as he said, "How should we respond to them? Answer them with a warning shot?" I liked the way he was thinking.
"No, we should give them a proper response." You can't be serious.
"Why aren't you shooting them!? Don't you see how angry I am!?"
Coco looked at Tact in shock as she said, "…eh? Commander, you can't possibly be seriously considering surrendering to Eonia's fleet?"
Lester then said, "No, open a channel, when this guy's got a face like that, everything will be ok."
Once the channel was open, Tact began, "Listen up Hell hounds, take this message back to Eonia. Your army may be mighty. But let me tell you three things. First, we are not so stupid as to listen to your lies and hand over Prince Shiva. Second, you have an army, but we have a demon." I cracked my knuckles as I smirked while he finished, "And lastly, no matter what, we will never yield to you!"
In the games, Tact simply answered they didn't believe Eonia and they would never surrender to him, period. Here, of course, he adds they have Howie with them, despite the fact the Angels are the ones who do all the fighting.

You know, I've come across several discussions about what makes a character a Mary Sue/Gary Stu, complete with a lot of people saying the term does not have any meaning anymore. I disagree, it does. The problem is that people focus too much on the superficial aspects, such as powers and looks, when the true reason is far simpler. A Mary Sue/Gary Stu makes the entire world and its inhabitants revolve around her/him.

Howie is in the middle of fucking everything and makes everybody gravitate towards him. The bad guy Eonia? I raised him like a son and he wants me on his side. The veteran Luft? He served under me and I taught him most of what he knows. The future leader of the empire Shiva? She's like a daughter and I know the secret of her gender.

Everybody knows, fears and respects him, constantly calling him "my lord", even when the only notable things he did were slaughtering a crowd hundreds of years ago and participating in some nebulous war. He virtually shits on the chain of comand in this ship. He threatens, belittles and disparages others yet nobody ever complains or tries to talk back. He's constantly butting in and overshadowing not only Tact, the protagonists, but also the Angels, the friggin faces of the franchise.
While the bridge crew complimented Tact on his firm stance, Camus came back on, "Apparently, negotiations have broken down. It seems the only choice is to fight my beautiful angels. Ahh…what a sad fate."
Milfeulle jumped in, "It's not sad at all! I haven't forgotten my grudge against you for exposing my secret!" Oh yeah, I'd forgotten to ask about that earlier. You tell him Milfeulle.
"You tell him for revealing your secret! Oh, and can you tell me your secret later? I want to know!"
As each of the hell hounds chimed in and jabbed at each member of the angel wing, I shook my head at the gall that Eonia had to demand us to hand over Shiva. What I wasn't expecting was for Tact to snap me out of my thoughts with a question that everyone, including the angel wing over their monitors, was staring at me about.
"Is your name Howard?"
"MOOOOM! I TOLD YOU NOT TO CALL ME LIKE THAT! I'M THE DEMON OF THE WEST!"
Guardian Hawk: Evening folks, been a few chapters since I chimed in.
And we were doing so well…
I hope you're enjoying the story so far.
As much as I would enjoy being buried up to the neck in sand and having a bulldog in heat furiously humping my face.
Fast disclaimer reminder, I don't own the Galaxy Angel series, or the character Inu-no-Taisho that Howard is modeled after.
Howard: …
Guardian Hawk: Something wrong Howard?
Howard: You're an asshole.
You know you've gone too far when even your self-insert calls you on your shit.
Guardian Hawk: …ok, I'll bite, what did I do?
Howard: Page 3 on your notes on me.
Guess he found the stick drawing of Milfeulle giving Howie a blowjob with the pointed arrows indicating "Milfie" and "Me" respectively.
Guardian Hawk: What? You weren't supposed to read those. How did you get through my password?
Howard: You really shouldn't put 'Password' as your password.
Easy, guys. My knee can't take that much slapping.
Guardian Hawk: …ok, so, back to my main point. I hope you are enjoying the story so far. Big shout out to WillGM and Steviebond for their reviews so far.
Spoilers: their reviews are mindless praise. And while we're at it, I checked their profiles. Both of them have written stories with self-inserts abord the Elsior on the first game. Guess "great minds" do think alike after all.
If you have any questions about something that doesn't quite add up, by all means, let me know in the reviews section!
I feel like looking at a massive train wreck while a guy asks me if I see anything wrong.
I'll see you folks in the next chapter. Now, as for you…
Please, stop.